Today Radio Scilly 107.9fm interviewed Jaclyn Pearson about protecting all seabirds, and in particular – gulls. It is the time of year when gull chicks are fledging and people question what actions can be taken to help the chicks and avoid parent gulls.
- It is a short period of time that the chicks may be wobbling around on your roof-tops making the parent gulls more attentive (as they are such good parents, and want to protect them )
- It is unlikely the parent gulls will 'dive bomb' you – they may carry out 'flyby' to let you know the chick is there
- For this short period, give the gulls time and space, they are a protected species under the Wildlife and Countryside Act of 1981
- If they are a nuisance, you can consider options to prevent the gulls nesting next year, but you can only do this in the autumn, as their nests are protected.
- Improve waste management practices so the gulls instead forage for natural food (fish) and eventually will move out of urban environments to natural coastal areas.
- Enjoy the behaviour and sights and sound of these costal birds, islands would be a much poorer place without them!
Also read more here
http://www.rspb.org.uk/community/ourwork/b/southwest/archive/2017/06/07/give-gulls-love-not-chips.aspx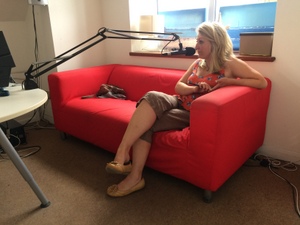 Radio Scilly presenter Will Lethbridge interviews Jaclyn at the studio.