This week the project team attended the Islands Invasive Conference 2017.
HRH The Princess Royal opened the conference, and Professor Tony Martin hosted the event.
Project Manger Jaclyn Pearson gave a talk (as part of the 170 talks during the weeks conference) to island invasive specialists from 47 countries who attended the event. Project Officers Lydia Titterton and Holly Paget-Brown assisted the event, as did Project Officer Vickie Heaney as staff member for her other role with South Georgia Heritage Trust.
Project Supervisor Paul St Pierre attended and Biz Bell (Senior Ecologist, Wildlife Management International Ltd - project friend and contractor for the rat removal phase) was the first keynote speaker giving a wonderful and inspirational talk, one of her highlights being this project.
Thanks to everyone who chatted to us, inspired us and taught us so much about the conservation work this project is part of, we hope you learnt from us too!
For more information on the conference read below or head to http://www.islandinvasives2017.com/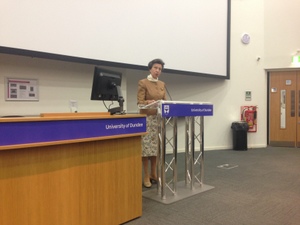 HRH The Princess Royal opens the conference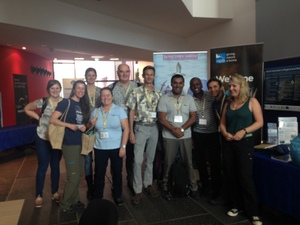 Sarah Havery, RSPB; Charlie Main, RSPB: Karen Varnham RSPB: Biz Bell, Wildlife Management International; Simon Owens, UK; Jean Clauden Sevathian, Plant conservation officer, Mauritian wildlife foundation, Mauritius; Seewajee Pandoo, Invasive Alien species Manager (PAN project), United Nations Development Programme, Mauritius; Jean-Yves Meyer, Délégation à la Recherche, Government of French Polynesia, Tahiti; John Mauremootoo, Director of InSpiral Pathways, UK; Jaclyn Pearson, Project Manager.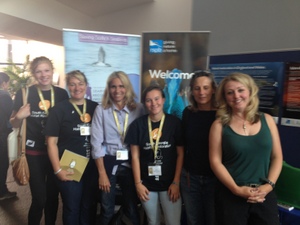 Amy King, RSPB and conference assistant; Vickie Heaney, Project Officer and South Georgia Heritage Trust assistant; Francesca Giannini, Italy; Holly Paget-Brown, Project Officer and conference assistant; Antonella Bini, Italy; Jaclyn Pearson, Project Manager.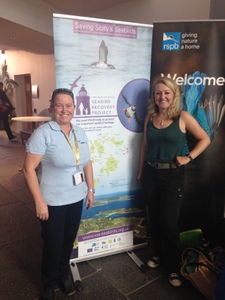 Biz Bell and Jaclyn Pearson next to project stand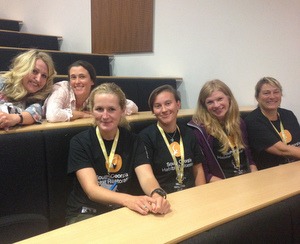 Jaclyn Pearson, Charlie Main, RSPB, Shiants Recovery Project Manager, conference assistants bottom row; Lydia Titterton, Holly Paget-Brown, Amy King, Vickie Heaney.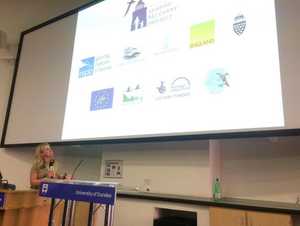 Jaclyn gives talk on project.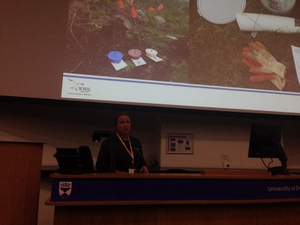 Biz Bell, first Key Note Speaker for the conference
This conference delivered by South Georgia Heritage Trust and University of Dundee, was the third in a series of international conferences focussed on invasive alien species (IAS) on islands, their impact and management. It follows those held in Auckland, New Zealand, in 2001 and 2010*. The Dundee conference was therefore the first such meeting for seven years, and the first to be held in the northern hemisphere
Awareness of the damaging impact of invasive species is growing rapidly, just as the problem itself is growing. Island flora and fauna tend to be particularly vulnerable to IAS, and many insular endemics have been driven to extinction by these invaders. But, by their very nature, islands may also offer the possibility of long-term refuge and security if alien species can be eradicated or effectively controlled.
Over recent decades, the management and even eradication of island invasives has developed from a concept born of desperation to small scale experimentation, to medium scale trials, to large scale operations where success is almost expected. The scale of response is increasing to meet the escalating challenge. Progress is made largely by learning from the lessons and experience of earlier operations, good and bad. For this, there is no substitute for face-to-face discussion, the discovery of new approaches from posters and spoken presentations, and access to the best people in the business, all gathered in one place.
The conference brought together experts and those thirsty for knowledge in diverse fields covering the invaders and invaded. Since the last meeting in 2010, much has been learned about the damage caused by, and how to control or eradicate, an increasingly diverse range of invasive species.